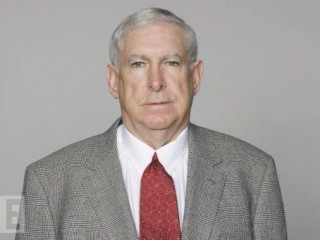 Mike Pope
Date of birth : -
Date of death : -
Birthplace : Monroe, North Carolina
Nationality : American
Category : Sports
Last modified : 2010-10-04
When Tom Coughlin became the Giants' head coach and began assembling his staff in January 2004, he retained only one position coach from the previous regime: tight ends coach Michael Pope. Coughlin's reasoning was simple and logical.

"He is the best tight ends coach in football," Coughlin said.

Pope has proven that for many years. This is Pope's 28th consecutive season as an NFL coach. He is one of the league's most experienced, respected and successful assistant coaches. Pope has coached in 29 postseason games, including five trips to the Super Bowl.

This the 11th season of Pope's second tour of duty as a Giants assistant coach. He is the only coach to participate in each of the Giants' four Super Bowls and the only Giants coach to have his name inscribed on three Lombardi trophies. He also coached in the Super Bowl with the New England Patriots in 1996.

Pope continues to enhance his reputation as the NFL's finest tight ends coach. Last year, Kevin Boss, who joined the team as a fifth-round draft choice from Western Oregon in 2007, had career-high totals of 42 catches for 567 yards and scored five touchdowns. The previous season, Boss became a fulltime starter and emerged as a reliable receiver and forceful blocker. He had a team-high six touchdown receptions among his 33 catches. Boss' 45-yard catch-and-run in Super Bowl VLII set up the Giants' first touchdown.

Pope's guidance and teaching helped make Jeremy Shockey one of the NFL's best tight ends. From 2002-06, Shockey was voted to the Pro Bowl four times. His 371 career receptions place him fourth on the Giants' career list (behind Amani Toomer, Tiki Barber and Joe Morrison).

Shockey was the Giants' first-round draft choice in 2002, when he caught 74 passes, a team record for both rookies and tight ends. He led all NFL tight ends in receiving and receiving yards (894) and he became the first rookie tight end to make the Pro Bowl since 1988. Shockey was elected to several all-pro teams. In 2003, Shockey caught 48 passes and was again chosen to go to Hawaii despite missing the season's final nine games with a knee injury.

Pope has long been an outstanding tutor of tight ends. Shockey was the fifth tight end to play for Pope to make the NFL's all-rookie team, joining former Giants Zeke Mowatt, 1983; Mark Bavaro, 1985; and Howard Cross, 1989; and Cincinnati's Tony McGee in 1993. Pope is not only successful at grooming young talent, but he is also adept at guiding his veteran students to elite status. Five of his players have been selected to the Pro Bowl - Bavaro, Rodney Holman (Bengals), Ben Coates (Patriots), Stephen Alexander (Redskins) and Shockey.

Pope was re-hired by the Giants on Feb. 11, 2000. He played a major role in bringing a new vitality to the Giants offense that season, which ended with the team winning the NFC championship and playing in Super Bowl XXV. He has further energized it the last decade by overseeing the development of Shockey and then Boss.

Pope was a member of Bill Parcells' Giants' coaching staff from 1983-91. He left the Giants following the 1991 season and spent two years with the Cincinnati Bengals, the first as tight ends coach and the second as offensive coordinator. He joined the New England Patriots in 1994 as running backs coach before moving to tight ends coach in 1995. Pope was the Washington Redskins' tight ends coach from 1997-99.

Prior to coaching in the NFL, Pope spent 13 seasons in the collegiate and high school ranks. His first coaching position was at Lenoir (N.C.) High School in 1964, and he coached at high schools in Charlotte, N.C., Jacksonville, Fla., and Lake Wales, Fla.
Pope's first job in college football was with Florida State from 1970-74. He then moved to Texas Tech (1975-77) where he served as a receivers coach and recruiter. From 1978-82, Pope was on the coaching staff at the University of Mississippi, where he coached the receivers, as well as punters and kickers.

Pope played quarterback for Lenoir-Rhyne College, where his team won one national championship and was runner-up a second time. The team's combined record during his playing career was 34-8-3. An all-conference player, Pope was team captain and MVP as a senior. He was also inducted into Who's Who in American Colleges and Universities was the "Team Before Self" award winner as a senior. Pope is a member of the Lenoir-Rhyne College Hall of Fame. A shoulder injury ended Pope's World Football League career after one year.

Pope was born in Monroe, N.C. Michael and Lee have two sons who work in the financial services industry, Travus in Naples, Fla., and Daron in New York City. Daron's wife, Rosie, is a native of London.
View the full website biography of Mike Pope.